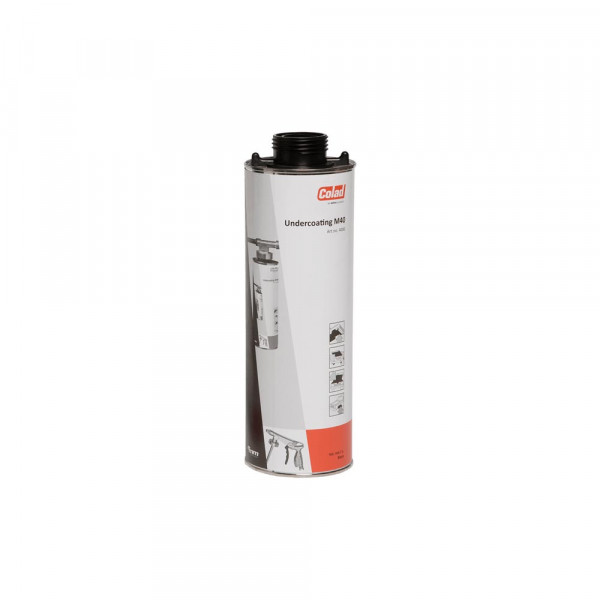 Specifications
A ready-to-use and non-paintable anti-corrosion chassis protection suitable for all kind of vehicles.
The Undercoating M40 is a durable anti corrosion coating based on bitumen. This undercoating has some sound deadening effects and offers a durable protection to the chassis of for instance cars, trucks and coaches. After drying remains a tough, adhesives film resistant against various climates and gravel.
Benefits
Proven durability
Does not produce a spray mist when applied
Sound deadening properties
Does not run on vertical surfaces
Application
Use as an anti-corrosion protection for instance for chassis, wheel-housings and side-skirts of cars, trucks and coaches in:
Automotive industry
Bus & coach construction
Trailer construction
Garages, workshops
Body repair shops
Substrates
Adheres well (without pretreatment) on a wide range of clean, dry, dust- and grease free substrates. It is advisable to perform an adhesion test before starting.
Preparation and application
Shake before use
The surfaces to be treated must be clean, dry, rust-, dust- and grease free
Can be applied by an Undercoating Spray Gun with an air-pressure of 3-4 bar
Recoated without bleeding
Please be aware that this is a non-paintable coating
Optimum spraying distance: 30 cm
Spray the surface until layer thickness is reached. If more layers are wanted, it is to be recommended to dry the layers in between. The Undercoating M40 can be sprayed haze free without any cob webbing and does not drip. Contaminated surfaces and filthy equipment can be simply cleaned in "fresh" condition with solvents.
Recommended application temperature between 15°C and 25°C
Cleaning contaminated surfaces and equipment: in 'fresh' condition with solvents
Technical Specification
Colour: Black
Packaging: 1 L tin with spray connection
Packaging Unit: Box of 12 x 1 L