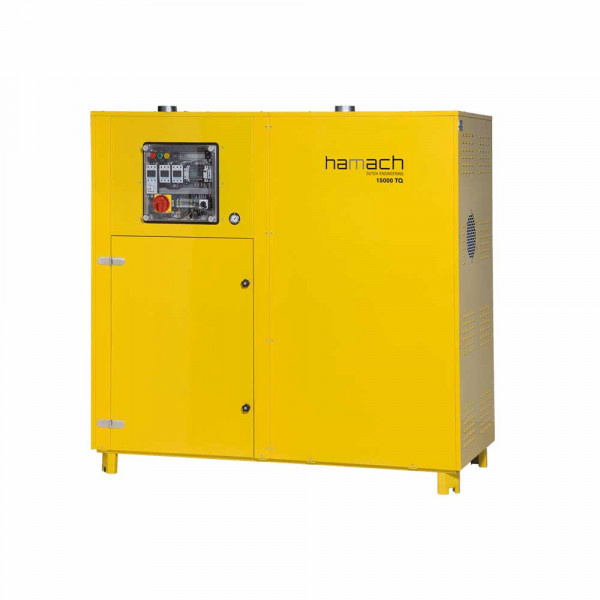 Central vacuum system HCV 15000 TQ
Specifications
Top quality fine dust extraction system for up to 15 extraction points for simultaneous sanding 24/7.
HCV – Hamach Central Vacuum System
The Hamach Central Dust Extraction system HCV 15000 TQ is designed to support a dust free working process in a 24/7 operational industrial production environment.
The HCV 15000 TQ has been designed for the simultaneous connection of 15 sanding tools and can be configured to meet all your production process requirements. Choose Hamach HCV TQ series and you choose proven technology! Check-out the Hamach HCV references!
Dust free process results in higher efficiency
Protect employees against fine dust (from wood, metal, plastics, mastic, putty, coating) produced by sanding. Reduce defects in the paint process! And less dust in the working area resulting in higher efficiency! Work safe and efficient with Hamach HCV TQ series!
Benefits of the HCV 15000 TQ
Top quality fine dust extraction middle and large sized industrial use
24/7 operation
Powerful up to 200 m length of tube work
9 M-class filters with pneumatic
Filter cleaning
Durable system
Up to 15 extraction points for simultaneous sanding
Technical features of HCV 15000 TQ
Max. extraction points15
Volt (V)380 - 400
Power (kW)12.5
Air flow (m3/h)1100
Air flow (L/min)18.300
Under pressure (Kpa)26
Under pressure (m. bar)260
Number of motors1
Air pressure (bar)5
Weight (kg) 600
Dimensions L x W x H (cm)188 x 95 x 190
Noise level (dBa)74
Polyester non woven filters m29 x 0.8
Filter surface (m²)7.2
Automatic filter cleaningYes
Container volume (L)150
Tube work (m)± 200
Switch box (24 V)Standard
Inverter availableOptional
Formulated according to ATEX standards Optional
Warranty of HCV 15000 TQ
Warranty up till 10 years!
Standard 24 months warranty. Take a Hamach Service Contract and the warranty period will be extended till a maximum of 120 months! Ask us for the Hamach Service Contract conditions. Choose Hamach and you choose a reliable and durable solution!
ATEX of HCV 15000 TQ
ATEX for HCV 15000 TQ The Hamach HCV 15000 TQ can optionally be delivered as an ATEX version. Suitable to extract potentially explosive dust like fine aluminum (dust class IIIC – ST1).