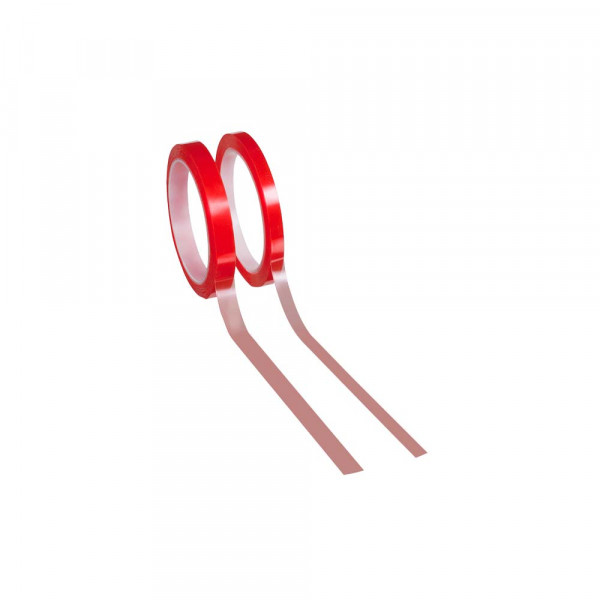 Permanent Attachment Tape
Specifications
100% acrylic, available in 9 mm x 9 m, 12 mm x 9 m. Per roll in a plastic bag.
Attachment film made of the highest quality acrylic adhesive
Transparent double-face tape, for attaching strips, registration plates and accessories to cars. Clear, permanent bonding, double-sided film. Thin and highly durable. Quick and simple to apply. Resulting in an appearance equal to OEM standards.
Benefits of Permanent Attachment Tape
Resistant to the influence of UV Light
Can be used on a wide variety of substrates (metal, glass, plastic, etc.)
Offers an easy liner and easy to reposition acrylic adhesive, allowing for accurate attachment of flat items such as badges and emblems
This clear, permanent bonding, double-side film with a thin, highly durable polyester carrier, provides quick and simple application
Technical features of Permanent Attachment Tape
Roll Size: 9 mm x 9 m and 12 mm x 9 m (1/2" x 10 yards)
Elongation: 50%
Tensile Strength: 14 lbs per inch
Adhesion to Steel: 72 oz/inch
Thickness: 8 mils
Adhesive: 100% acrylic, absolutely free of silicones
Packing: individually wrapped in a sealed plastic pouch
Packing unit: 10 rolls per case
| | |
| --- | --- |
| Art.no. | Variant |
| 900509 | 9 mm x 9 m |
| 900512 | 12 mm x 9 m |