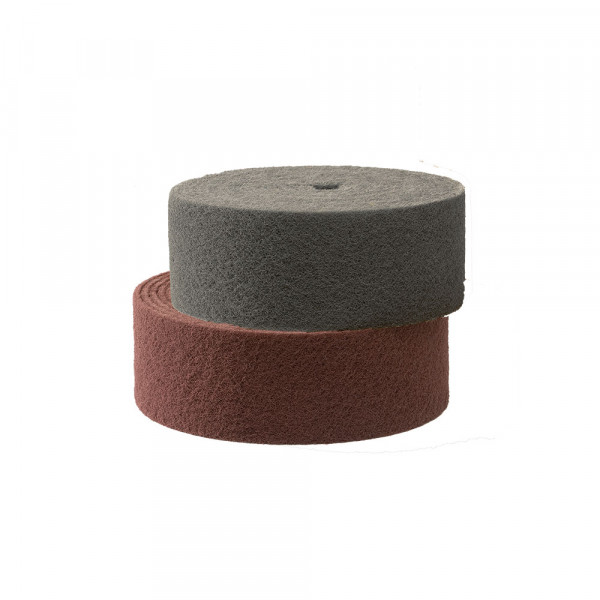 Scuff Rolls 115 mm x 10 m
Specifications
115 mm x 10 m, 2 versions: Red type A very fine, Grey type S Ultra fine. 1 roll shrink wrapped.
The material is very flexible and follows the shape of the surface to be prepared.
The high quality Scuff Rolls are especially designed for both manual or machine use. Prior to applications of finishing coat, primer or lacquer. Can be used on painted surfaces, but also on plastics, wood and metal surfaces.
Art. no. 38200800 Type A, Very Fine (VF) – Red, is particularly appropriate for the roughening of unpainted or primed plastics, plywood steel and aluminum parts. Scuff Discs may also be used to prepare new sheet metal parts for refinishing.
Art. no. 38201500 Type S, Ultra Fine (UF) – Grey, is particularly effective for the roughening between coats, when using 2 component paints and primers. This Scuff Disc may be used to repair blend areas.
Benefits of Scuff Rolls
Long lifetime
Can be used wet and dry
Easy to shape and fold, while maintaining the effectiveness due to three-dimensional fiber structure
High abrasion capacity
Gives an excellent smooth finish
Ideal for matting of surfaces and creates an excellent base for the next lacquer layer.
Can be used on painted surfaces, but also on unpainted wood, plastics and metal surfaces. Substrate range: Paints, Coatings, Steel and stainless steel , Plastics , Copper alloys / brass / bronze , Primers, Plywood , Aluminum , Etc.
Technical features of Scuff Rolls
Art. no. 38200800 Type A, Very Fine (VF) – Red is particularly appropriate for the roughening of unpainted or primed plastics, plywood steel and aluminum parts. Scuff Discs may also be used to prepare new sheet metal parts for refinishing.
Art. no. 38201500 Type S, Ultra Fine (UF) – Grey is particularly effective for the roughening between coats, when using 2 component paints and primers. This Scuff Disc may be used to repair blend areas.
Size 115 mm x 10 m
Backing Non-woven
Grain Aluminum Oxide (VF) and Silicon carbide (UF)
Bonding Resin
Coating Three-dimensional
| | |
| --- | --- |
| Art.no. | Variant |
| 38200800 | Red Type A |
| 38201500 | Grey Type S |