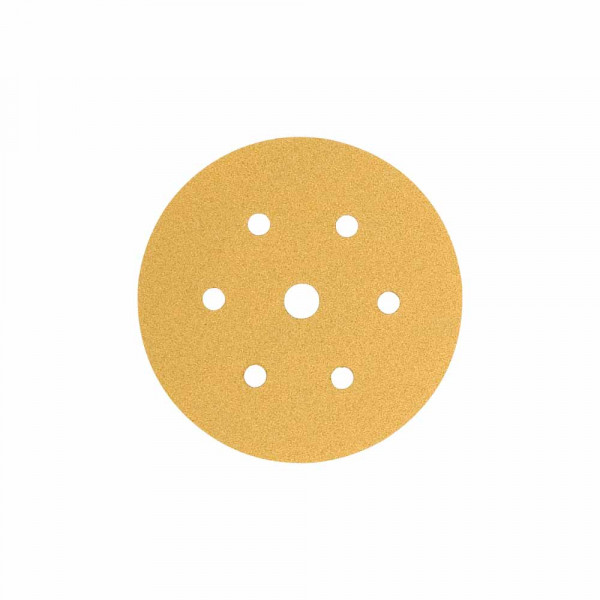 Sanding Discs Premium 6 + 1 holes
Specifications
Hook & Loop, to be used with 150 mm pads. 100 discs per box, 50 discs per box for P40 and P60. 6 + 1 holes.
High quality Sanding Discs, very well suited for machine sanding at high speeds during all stages of the repair process.
Open-coated aluminium oxide abrasives especially prepared for strength and durability. Designed for the car body repair and marine industry for sanding, paints, primers and putties.
Benefits of Sanding Discs Premium
High quality, paintable finish; creating a paintable and even finish
Increases productivity; aggressive cutting performance, work more efficient
Durable, resist to clogging; treated to prevent dust accumulation. Result: durable and provides a high quality finish
Fast and consistent performance; high speed in sanding performance, initially and for the disc lifetime
Less dust; hole pattern creates good dust extraction and provides a healthier workshop
The sharp and hard aluminum oxide grains are especially prepared to provide fast cutting results with high removal rates
The unique engineered coating technique of the Sanding Discs prevents accumulation of particles into the abrasive, so it will last longer and gives a consistent high quality finish
Suitable for metal, decoration and wood industry
Technical features of Sanding Discs Premium
Diameter: 150 mm
Backing: D-Paper / C-Paper
Grain: Aluminum Oxide
Bonding: Resin over resin
Coating: Semi-open
Colour: Gold
Application on pad: Velcro (Hook & Loop, to be used with 150 mm pads)
| | |
| --- | --- |
| Art.no. | Variant |
| 3650004010 | P40 6+1 50x |
| 3650006010 | P60 6+1 50x |
| 3650008010 | P80 6+1 100x |
| 3650012010 | P120 6+1 100x |
| 3650015010 | P150 6+1 100x |
| 3650018010 | P180 6+1 100x |
| 3650024010 | P240 6+1 100x |
| 3650036010 | P360 6+1 100x |
| 3650040010 | P400 6+1 100x |
| 3650050010 | P500 6+1 100x |
| 3650080010 | P800 6+1 100x |