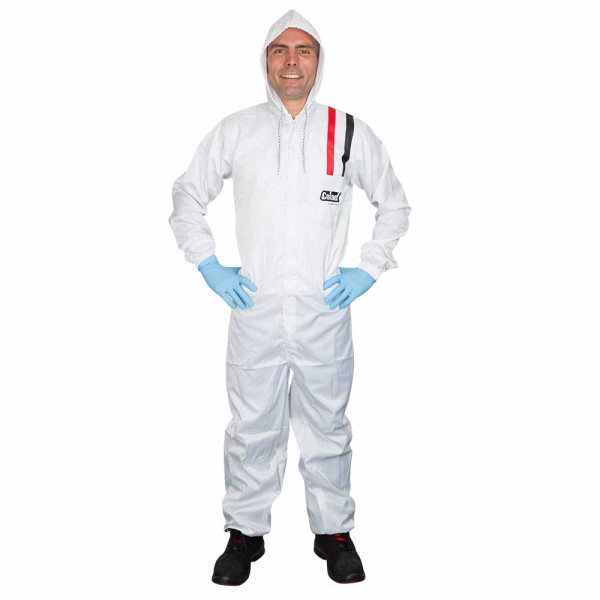 Specifications
9 versions: sizes 48, 50, 52, 54, 56, 58, 60, 62, 64.
Carbon Paint Overall for use during paint jobs to protect the wearer against paint spray
To protect the paint job against fibers, dust and lint. White with carbon thread to prevent distortion of colour vision, very resistant and well ventilated. The carbon is added to reduce static electricity. Protects against non-hazardous chemicals, like waterbased paints or harmless cleaning detergents.
Benefits of Carbon Paint Overall
Colad Carbon Paint Overalls are 100% dust- and lint free
The woven carbon thread provides maximal anti-static properties
The Overalls are provided with a cap to protect the painter's hair and ventilation openings for optimal comfort
Sleeves and legs fit closely around wrists and ankles thus offering the user excellent protection
The front of these overalls is fastened with a durable zipper that can be opened from both ends
Technical features of Carbon Paint Overall
Material: Nylon with woven carbon thread
Quality: Anti static
Finishing: Lint free
Weight: 440 grams (sz 50) till 560 grams (sz 64)
Color: White (carbon thread visible in checks)
Design: Sleeves and legs finished with elastic; Elastic band at hip height on the back; With cap supplied with a black and white lace; A hip pocket on the right hand side without hook&loop
Ventilation: Ventilations openings at shoulder height
Labeling: Neck label with size indication
Zipper: Double zipper no. 5
Print Work: Black and red stripes on the left upper front side
Colad logo: Printed on the left side of the chest
Certification of Carbon Paint Overall
Personal Protective Equipment (PPE) category I according to European directive 2016/425 – Basic PPE protects against minimal risks
| | |
| --- | --- |
| Art.no. | Variant |
| 511748 | 48 |
| 511750 | 50 |
| 511752 | 52 |
| 511754 | 54 |
| 511756 | 56 |
| 511758 | 58 |
| 511760 | 60 |
| 511762 | 62 |
| 511764 | 64 |